Merisi Dodici
---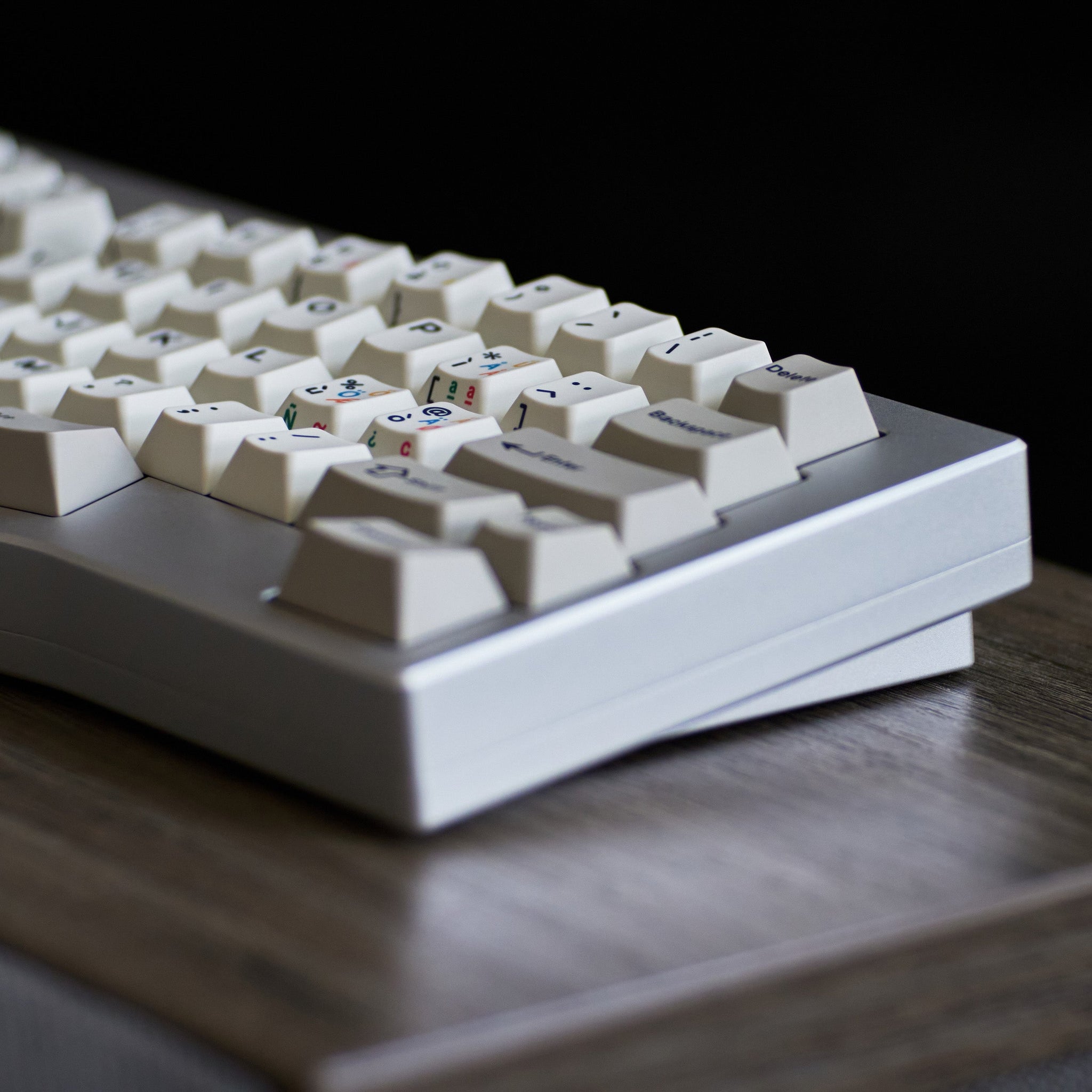 Twelve



Dodici is the final design in my "Kustoms" series. When Sam Yuktsi introduced the TGR Alice back in April 2018 it changed my perception of what an ergonomic keyboard could look like. The silhouette of the board, the detailed cutouts on the split center, and overall clean aesthetics made it an instant hit among high-end keyboard enthusiasts. The Alice layout is a revised version of the similar EM7 which Lyn launched a couple years earlier.
Thank you to LightningXI, Ninjapirate9901, and NickTheLard for testing my prototype and generously sharing some of these photos with me. Much appreciated! 

"Kustom"
Dodici features similar design aesthetics as the Sessantacinque and Ottantaquattro which were introduced in 2020 and 2021. The "Korean Kustom" side handles, substantial bottom weight, traditional top-mounted switch plate, and a clean USB cutout. The top case side proportions are slightly exaggerated to make room for the distinct 45 degree chamfers on the outside as well as the slightly "user facing" inside chamfers.  All of these design elements are also present in my two previous designs.
LightningXI Typing Video 
Printed Circuit Board - Adelais from Mechlovin'
The PCB included in the Dodici Group Buy will be the Adelais (USB-C version) from Mechlovin.
QMK + VIA compatible PCB allows for quick layout adjustments, fn layers, macro programming, and other neat features.
VIA configurator is currently transitioning to an online web based interface and can be accessed here. The VIA client (NO LONGER IN DEVELOPMENT) can be downloaded here.



Details

The Merisi Dodici is an Alice layout custom keyboard kit which includes an aluminum case with top and bottom alignment tabs, stainless steel bottom weight, aluminum plate, Mechlovin Adelais PCB, screws, bumpons, and ships in a Merisi.Works medium size protective keyboard case.
Front Height
19.75mm
Rear Height
37.89mm
Width
350.35mm
Depth
114.2mm
Typing Angle
7.8 degrees
Weight
2580g (Assembled)
Case Color Options
Black or silver
Plate Colors
Black, silver, or red.
Layouts
1u and 1.25u bottom center key. Normal and stepped Caps Lock, normal and split backspace, normal and split right shift
Additional Plate Material Options
Carbon Fiber & Brass

LightningXI Build Stream
Wrist Rest (Optional)
Since the Dodici has a unconventional silhouette compared to most keyboards, other wrist rests will not fit it properly. The Dodici GB will have an optional frosted Polycarbonate wrist rest which is machined to match the outline 1:1 as well as featuring matching chamfers around the top edge, standard 3M bumpons, and an engraved logo on the bottom. 
Group Buy Raffle
Dodici was be sold through a group buy raffle limited to 60 units in October 2022. The raffle was open for 24 hours.
The Group Buy took approximately 9 months. Group Buy participants were updated on a regular basis in the Geekhack thread, and Discord server.
Subscribe below to make sure you don't miss any Dodici updates and other exciting Merisi products coming in the near future.