Merisi Ottantaquattro
---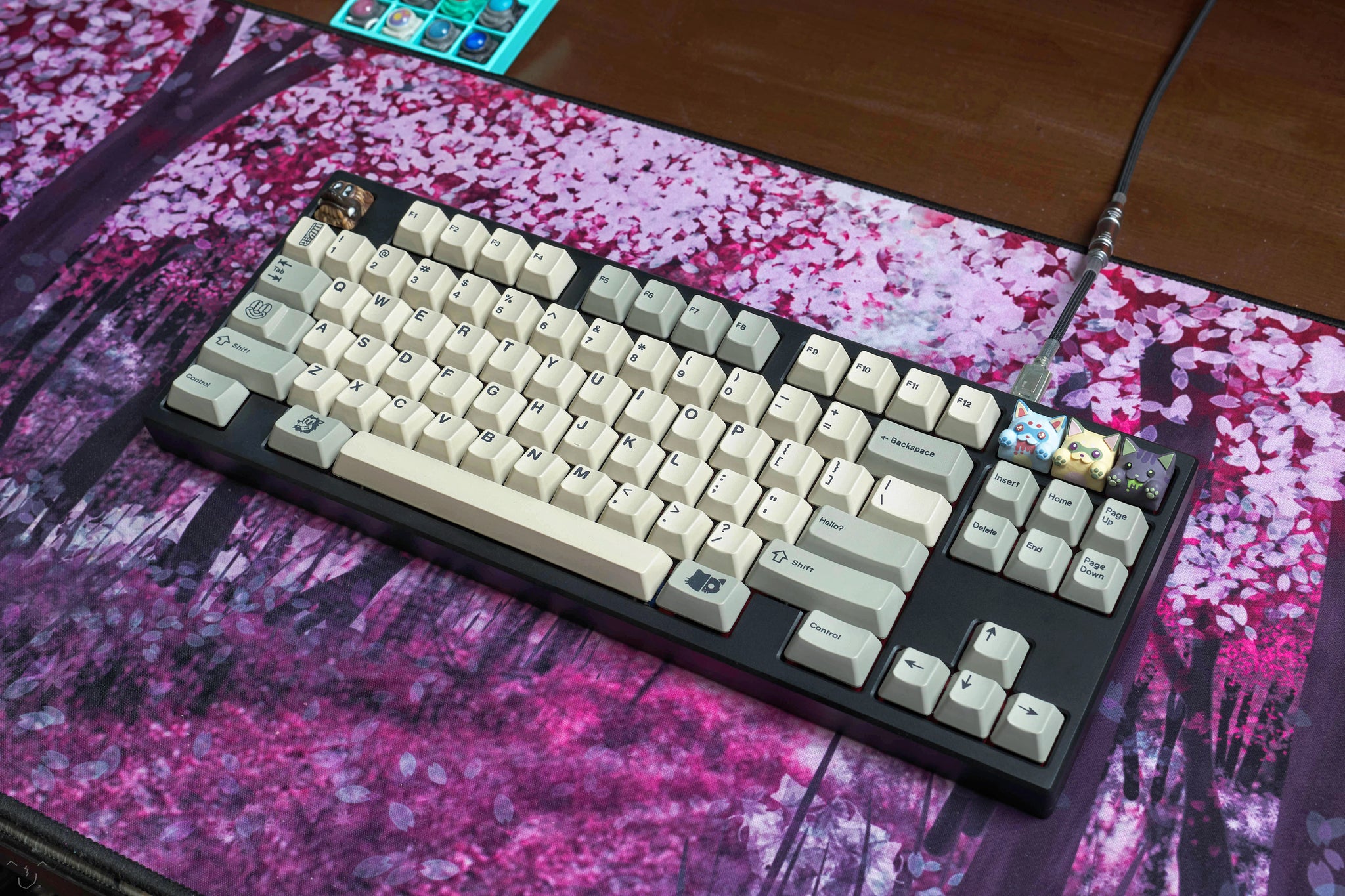 eighty-four
Ottantaquattro is a continuation of the "Kustoms" series I've been working on for the past couple of years. A Tenkeyless (TKL) layout with similar design aesthetics as the Sessantacinque, which ran as a successful public group buy in Q4 2020.
(A very special "Grazie" to LightningXI for letting me use these awesome photos from his prototype build featuring DCS Deadbeats keyset, BBW, and Bongo Cats artisans.)
LightningXI Typing Video 
Printed Circuit Board from Hiney
The PCB will be the popular and reliable h87c with south facing spacebar stabilizers from hineybush featuring a custom "merisi.works x hiney" logo. 
QMK + VIA compatible PCB allows for quick layout adjustments, fn layers, macro programming, and other neat features.
The PCB reset button is accessible through the logo cutout next to the spacebar.
VIA configurator can be downloaded here.
Details

The Merisi Ottantaquattro is an ~80% layout (TKL) custom keyboard kit which includes an aluminum case with top and bottom alignment tabs, stainless steel bottom weight, brass internal weight, aluminum plate, Hineybush PCB, screws, bumpons, and ships in a Merisi.Works medium size protective keyboard case.
Front Height
19.55mm
Rear Height
38.5mm
Width
359.6mm
Depth
136.05mm
Typing Angle
7.8 degrees
Weight
~3300g (assembled)
Case Color Options
Black or silver
Plate Colors
Black, silver, or red.
Layout (Bottom Row)
"Standard", Tsangan or WKL
Additional Plate Material Options
Carbon Fiber & Brass

LightningXI Build Stream
Group Buy Raffle Q1 2022
Ottantaquattro will be sold through a group buy raffle limited to 100 units. The raffle will be open for 24 hours and winners will receive an invoice reflecting the choices entered in the raffle form. Additional Group Buy rules will be listed in the raffle form.
The Group Buy will take approximately 9 months with delays likely because of the ongoing pandemic. Group Buy participants will be updated on a regular basis in the Geekhack thread, discord server, and Instagram.
Subscribe below to make sure you don't miss any Ottantaquattro updates and other exciting Merisi products coming in the near future.